Congratulations Gift Basket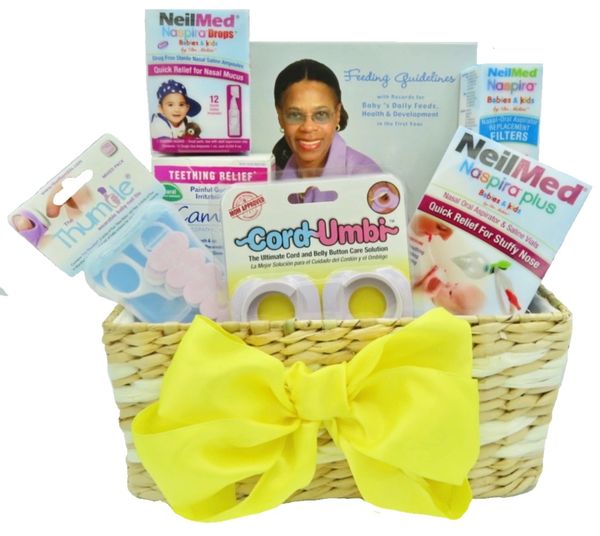 Congratulations Gift Basket
A Gift Basket is an excellent way to celebrate with parents the birth of their precious little one. This basket contains products that parents should have on hand, ready and available when needed. Empowering them in the care of their newborn
Included in this basket:
1 Pack  2 Cord-Umbi - 

A device placed over the umbilical cord and bellybutton to allow easy

 access

 to remove cord ooze. Making cord care easy

 and hassle free. 
1  Naspira Plus Nasal Oral Aspirator  - 

Quick relief for stuffy nose.
             Naspira Plus containes: 1 aspirator, 7 filters, 8 saline vials and 1 netted carrying bag 
1  Box - 12 Vials of Nasal Drops - 

Quick relief for stuffy, congested or dry nose
1  Box - 30 Replacement Filters - 

Nasal oral aspirator filters
1  Box - 30 Vials Camilia Teething Drops - 

Homeopathic teething relief, Benzocaine and Preservative free
1  Thumble Wearable Baby Nail File, Mixed Pack - 

Slip Thumble on your thumb and file baby's nails

 
              Mixed pack contains: 1 Thumble, 10 New Born files,10 files for babies 6 Month plus, 1 baby                          scissors and a convenient storage case.

1  Feeding Guidelines - 

This book is a distinctive approach to the infant's nutritional needs. It addresses many of the concerns parents have regarding, Breast Feeding, Formula Feeding and Solids.
  

1  Reusable Lined Wicker Basket    
        ( Reusable Basket may vary )
Featured Products